THE SEED PROJECT
The Seed Project at The Public Theater
The Public Theater Facade
On Display October 29-November 2 and November 4-10. On repeat from 7:00PM - 12:35AM EST
Large-Scale Visual Projection Project to Cover the Facade of The Public
This is a rare moment of intense shared experience across our country. Given the antiracist uprising in the U.S. and the global pandemic, the theaters in the Public Works National Cohort feel called to reimagine how to be of service to their communities. This cohort of community artists is activating their creativity to reimagine spaces for collective artmaking and believes that there is strength and joy to be found in envisioning the future together. This artistic call to action has resulted in THE SEED PROJECT, an ambitious work of collaborative and participatory art across the nation and in New York City. Community members from the Public Works National Partners and Affiliates across the country are responding to the prompt: "Today, I am planting a seed of ..." These offerings for the future are being turned into large-scale pieces of public art, with each theater in the National Cohort creating a unique work of art for its own community.

In New York, Public Works has collected responses from 150 community members from all five boroughs, and is using them to create a large-scale projection that will cover the entire facade of the historic Public Theater at 425 Lafayette Street with offerings for the future of our city. The projections will be designed by Lucy MacKinnon and associate designed by Shih-lien Eugene Yen, using words by and images of the Public Works community, with photography by Jennifer Young.

Share that you're joining us by using hashtags #wearepublicworks and #TheSeedProject on Twitter, Instagram, and Facebook.
PRODUCTION DETAILS.
DIVE DEEPER INTO SAY THEIR NAMES
Run time: 1 hour - On repeat starting from 7:00PM - 12:35AM EST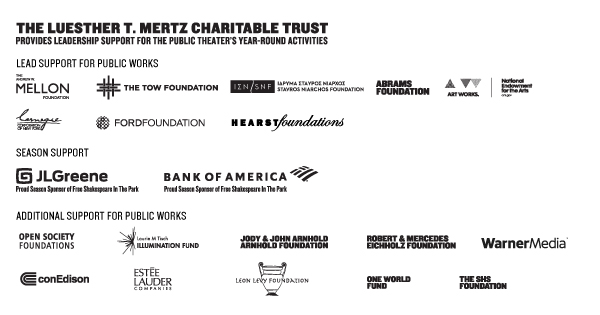 CALENDAR.
Free For All
Sign up for email updates to stay informed.
MEDIA.
Photos